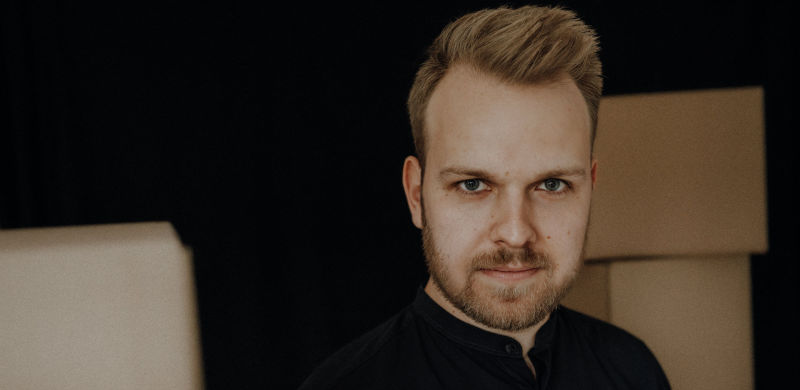 BIOGRAPHY
Manuel Winckhler was born in Munich in 1996 where he received his first singing lessons and completed his high school diploma at Pestalozzi-Gymnasium. Thereafter he was active as a singer in various vocal ensembles and choirs, such as the Vokalensemble St. Peter München, the Konzertchor des Bayerischen Rundfunks and the Vokalensemble Lauschwerk.
In October 2016 Manuel Winckhler began studying singing at the Mozarteum Salzburg with Andreas Macco and later he briefly studied with Fenna Kügel-Seifried. From October 2019 he continued his studies at the Hochschule für Musik und Theater München with Lars Woldt where he completed his Bachelor's degree in February 2022. Since then he has been pursuing a Master's degree in Concert Singing at the same institution. He has received numerous artistic impulses through song lessons with Fritz Schwinghammer and Christian Gerhaher, as well as masterclasses with Christiane Iven, James Cheung and Ian Bostridge.
As a lied singer Winckhler dedicates himself to the works of Robert Schumann, Franz Schubert and Johannes Brahms, among others. In song recitals he has performed with Fritz Schwinghammer and James Cheung, the latter of whom he collaborated with during the 2nd Liedwoche Christian Gerhaher at Schloss Elmau.
The Munich bass is well appreciated as a concert singer and has a strong affinity for sacred music of the Baroque, Classical and Romantic periods. Recently he performed Bruckners Mass in F-Minor as a Bass-Soloist with Collegium Vocale Gent and Antwerp Symphony Orchestra under the baton of Philippe Herreweghe. His previous concert activity includes performances of J.S. Bach's Passions and Cantatas, Mozart's Requiem and Haydn's Creation under conductors such as Johanna Soller and Roderich Kreile, with the Munich Philharmonic, the Baroque Orchestra La Banda and numerous other ensembles.
Recently he performed as Osmin (W.A. Mozart: Die Entführung aus dem Serail) at the Kammeroper München and in spring 2023 he appeared as Lykomedes (W.-A. Schultz: Achill unter den Mädchen) at the Theaterakademie August Everding with the Münchener Rundfunkorchester. Winckhler made his stage debut in the season of 2021/22 as the Third Policeman (E. Krenek: Jonny spielt auf) at the Staatstheater am Gärtnerplatz in Munich. Throughout his training he has acquired an extensive stage repertoire with roles such as Sarastro (W.A. Mozart: Die Zauberflöte), Simone (G. Puccini: Gianni Schicchi) and Don Pasquale (G. Donizetti: Don Pasquale).
Manuel Winckhler was supported in the Bayerische Singakademie and received the Deutschlandstipendium and a scholarship by the Richard Wagner Verband München.
Last updatet: November 2023
This Vita is for information only. Please do not use it in any other way. For concerts programmes or similar please refer to Downloads.